Want to hear some great secular music? Come and hear us sing at our upcoming gigs this May. Tickets are free for all three events.
We'll be making a return to the Sangerstevne Choral Festival on
Friday 13 May at 7.30pm at St Matthew's Church, Ealing Common, London W5 2QA  and
Saturday 14 May at 5pm at St Sepulchre Without Newgate, Holborn, London EC1A 2DQ
http://www.londonsangerstevne.org.uk/
We'll also be providing the 'no faith' option at the interfaith festival, Faiths In Tune, at the British Museum on Sunday 22 May at 3.50pm.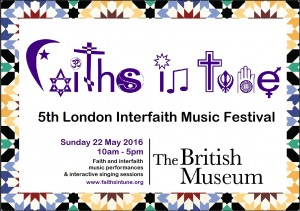 The festival will feature our classic all-day stage music and dance programme at the British Museum's BP Lecture Theatre, as well as twelve interactive singing, chanting and meditation sessions in the Stevenson Lecture Theatre. An Interfaith Fair & Exhibition will offer festival attendees the opportunity to learn more about and get in touch with numerous faith and interfaith organisations from London and the UK.
Book free tickets here.