27th June 2015 Rose Lipman Community Centre, Haggerston.
Our One Life concert played to a full house with performances of "Take me to church", "Tesco Saves", "Do you realise", "Hebrew Love Songs" and many others, well received.
The choir's extensive set was punctuated by performances from Andrew Copson, whose philosophical talk gave us plenty to think about, and by science show-off Steve Cross and comedian Sara Pascoe, who both kept us laughing.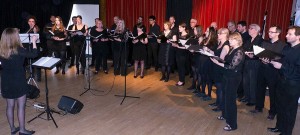 The evening was compered by Stu Richards, who turned in a great performance, accompanied at times by a break-dancing Darwin!
At only £12 a ticket and with a very reasonably priced bar, it was a great evening out. Look out for One Life 2016.